Tami Residence & Constantinus Palace are hotels in a part of Tami Resort. Both hotels blend an old South Serbian charm, classic European elegance, and successful family business, reflecting the ambiance for leisure and business in one place. Located at one of the most beautiful viewpoints, just two and a half kilometers from downtown, both hotels reflect the specific beauty of an old ancient city of Niš and picturesque surroundings. These 2 hotels and 1 Annex Building represent Congress Center which offered you 115 rooms & suites, 1 banquet hall, 7 Conference Halls, Spa Center, 100 parking spots, and is a perfect venue for your business or leisure event.
In the garden yard of Tami Resort, there is a simpatic, small St. Archangel Michael Church, where guests can experience the most romantic weddings in the city, either to escape from daily business and find their own peace.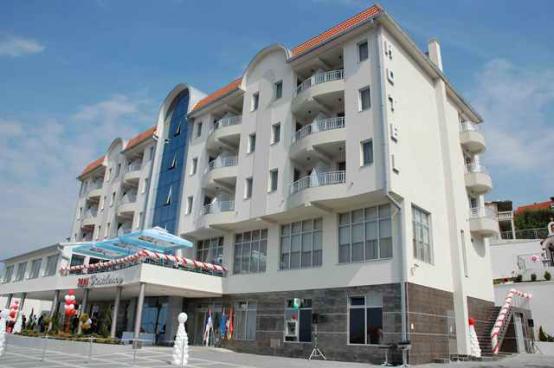 Tami Residence 4*Hotel 
Regarding guests' needs, the hotel is constantly working on the improvement of the interior and high-class service, which is recognizable in Nis and South & East Serbia. Hotel capacity is:
60 Standard, Superior Rooms & Deluxe Rooms, including 3 Senior Suites
1 Conference Hall – Residence, up to 100 sits
1 Meeting Room, up to 22 sits 
1 Board Room, 7 sits
2 Restaurants Sunset  & VIP (that could be transformed into conference halls up to 230 and 70 sits)
Spa Center with open-air swimming pool
Kids Park
Sport Terrains (basketball, futsal, etc.)
Parking place for 100 vehicles and garage for buses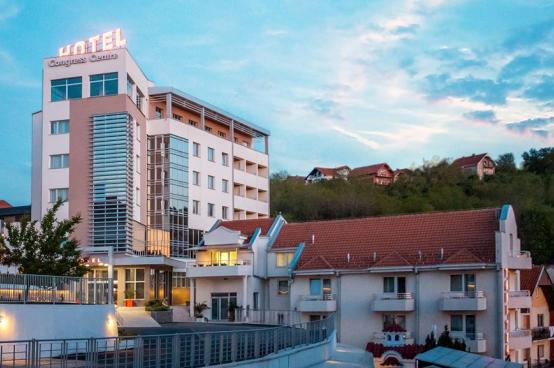 Constantinus Palace 4*Hotel 
A newly built hotel in 2017 is arranged with elegance, luxury, modern design, and carefully selected materials. With the biggest conference hall in the city, up to 400 sits, banquet hall and meeting rooms, makes Tami Resort, the biggest Congress Center in South & East Serbia. Hotel capacity is:
•    39 Superior & Deluxe Rooms, 3 Junior Suites & 3 Luxury Suites
•    Rooftop Restaurant Helena 
•    Sky Lounge 
•    Conference Hall – Constantinus Palace up to 400 sits, that can be devided into 2 separate halls
•    Banquet Hall 280 sits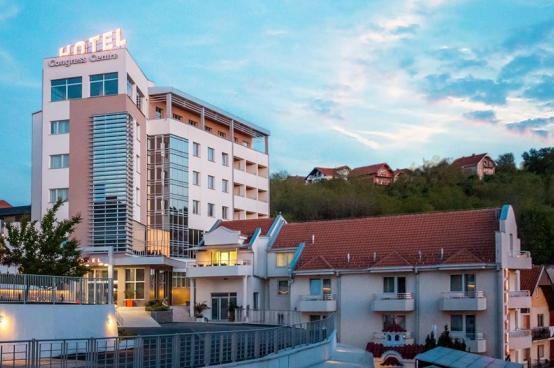 Annex Building 
Annex Tami is a separate building placed between Tami Residence & Constantinus Palace Hotels. It featured 10 comfortable rooms that combine modern design and warm colors. The guests are provided the same service as in the Hotel's main building. For complete rest and intimacy, an Annex is an ideal place for your stay. The room service is available to all guests, while other hotel services and facilities are provided in the main building - Tami Residence Hotel, which is at a distance of 20 m. 
•    10 Deluxe & Superior Rooms 
•    1 Conference Room Tami 1 up to 80 sits
•    1 Conference Room Tami 2 up to 50 sits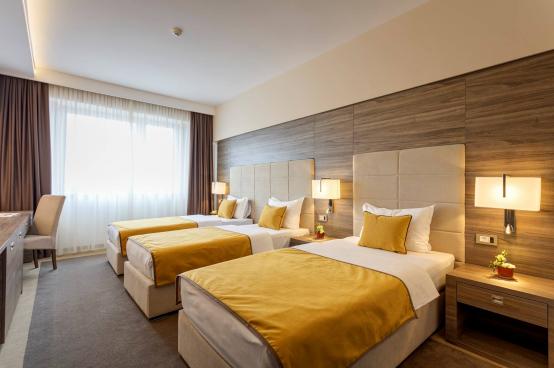 The Rooms
Tami Resort features 115 guest rooms and bathrooms that combine comfort, style, elegance and the latest technology. These details make Tami Hotels into an ideal place; both for leisure and business travelers. All the beds are possible to have length extensions for tall people and therefore suitable for sports players.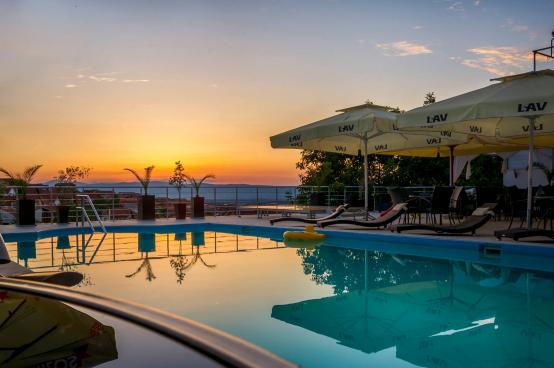 Tami Spa & Wellness Center
Relax and spoil your mind & body at our Tami Spa & Wellness Center. Our Spa Oasis offers you splendid relaxation designed to slow down or speed up well being of modern life.
During summer the guests can enjoy a spectacular city view while swimming or just relaxing at The Summer Bar by the poolside.
If you travel with children, we have prepared for them:  Children corner for the youngest guests &  Terrains for Basketball & Volleyball.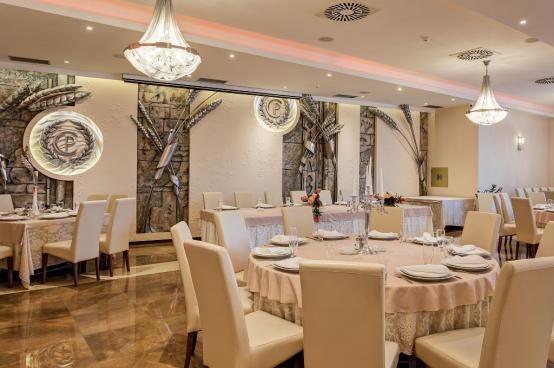 The Restaurant & Bar
The fine-dining restaurants Sunset, located at Tami Residence Hotel, and Helena, located at Constantinus Palace Hotel, offer an elaborate multi-cuisine menu of Mediterranean, Asian, European Cuisine and National specialties.  
During summer, the guests can enjoy in a spectacular city view an array of canapes, salads, exotic cocktails, fresh juices, wines and international spirits at the Greenhouse of The Sunset Restaurant and a Summer Bar by the poolside. 
The VIP Restaurant is an ideal place for small family or friends gatherings.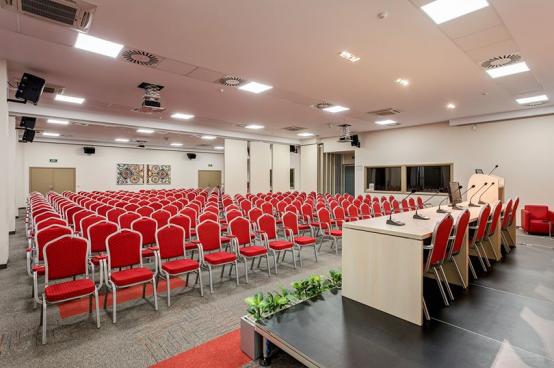 Tami Congress Center
After ten years of experience and a long reference list, this hotel is a leader in the MICE business in South & East Serbia. Tami Resort offers 5 multifunctional conference halls and 2 meeting rooms which are fully equipped for conference and business events. Tami hotel facilities offer high-class stylish business environments that cater to all your business needs including state of the art technical equipment and a splendid catering service that will add clout to your business meeting.
With outstanding assistance and determined customer service, our meetings and events team in Bleisure DMC will make sure that your business gatherings will be one to remember. 
Whether you are interested in a venue for short meetings, day-long conferences, incentive programs, or private events - don't hesitate to enquire about corporate meeting rooms or banquet halls today, and we will make sure to exceed your expectations. We also have great deals available for conferences and meetings along with discounts for hotel rooms.