Southeast Serbia is known for its folkloric music, delicious food specialties, Pirot carpets, peppers, cottage, caciocavallo cheese (kačkavalj), and most of all, hospitality. After the rich food, you would love to feel the sharp mountain air of Stara Planina (Old or Balkan Mountain), Suva Planina (Dry Mountain), Stolska Mountain, Ruj Mountain, and Vlaska Mountain.
This is the reachest part of the unspoiled nature in Serbia. All kinds of outdoor sports and activities are available here, from extreme till rejuvenating. Here you can enjoy skiing, snowboarding, hiking, biking, free climbing, sky running, kayaking, fishing, enjoying by the lakes and rivers, rejuvenating in the villages and spa & wellness centers, visiting cultural-historical monuments, monasteries, archaeological sites, and many more.

The traffic infrastructure of the eastern and southern arms of the international road Corridor 10 that passing through Serbia has been completed and is able now quickly, comfortably and safely travel through Nis to Pirot, Dimitrovgrad, Bulgaria (Sofia) and Turkey (Istanbul), as well as via Nis to Leskovac, Vranje, Presevo, Macedonia (Skopje), and Greece (Thessaloniki).
Pirot Small Jerusalem 
The Pirot City lies on around 60 km south-east of Nis. Pirot is in the embrace of Stara Planina, just like Knjazevac City. Although shared by a mountain, the viewpoints of both cities have almost similar views on the highest peak of Midzor (1169m) and the ridges of Stara Planina. Pirot has been called Small Jerusalem because of its many churches and monasteries in its vicinity.

Rich material and spiritual culture, people kindness, dialect, and tradition, untouched nature, and its extraordinary beauty, power, and charm, which it hides in the natural, and anthropogenic motifs characterize each of its areas and villages in a unique way. You would never feel bored here instead, you would feel the adrenaline, strength, and wildness of the mountains. Here you will find many crystal clear springs, rivers, canyons, gorges, and one of the largest in Serbia -  Zavojsko Lake. A wealth of flora and fauna will give you pleasure in fishing, walking, and bird watching.

Things to visit at least once in a lifetime are the villages of Dojkinci, Vrelo, Stone Village Gostuša, Topli Do, trekking to Waterfalls of Tupavica, Piljski, Cunguljski, and Kurtulski Skok, the Gorge and a Cave of Vladikine Ploce, the canyon of Toplodolska River famous here as Little Colorado, the Rosomanski Lonci George, Monastery Sukovo with very rare fresco of horse-headed St. Christopher, St. George Monastery in Temska Village, St. Peter and Paul Church in Rsovci Village, and St. John the Theologian in Poganovo Village.

The symbol of Pirot is the recently restored Kale Fortress (Momčilov Grad). Archaeological excavations of the middle city found a settlement more than 5000 years old, and traces of the Eneolithic and Iron Age. Excavations of the old city discovered traces of Antiquity, early Byzantine, and the Middle Ages. In the fortress during summer, Kale Fest - The festival of cultural heritage, chivalry, and old crafts organize the Adventure Travel Network. On interactive workshops, presentations, and exhibitions, the festival takes visitors on a journey through the history and culture of Pirot, presenting them with a medieval life, carpeting, pottery, and other old crafts.

Adventure Outdoor Fest Jerma is a manifestation that everyone should visit at least once in a lifetime. If you desire a unique experience which represents a blend of different adventures in a few days, hiking, biking, fishing, bird watching, camping, caving, chit-chat with local people, and activities for kids, this is certainly the right event for all ages, and families.
Dimitrovgrad City just infront the border with Bulgaria
Dimitrovgrad is the most eastern city in Serbia, also known as Caribrod is located just before the Bulgarian border - Kalotina. However, according to the official statistical regions in Serbia, it belongs to the Southeast Serbia, as does Pirot. If we draw the horizontal line from Niš as the largest city of South & East  Serbia located somewhere in the middle of this region, all the cities below the line of this belong to southern Serbia, and the other cities above the line belong to eastern Serbia.
Its territory belongs to the district of Pirot, and is 20 km away from Pirot, 90 km from Niš, and around 60 km from Sofia. An archaeological findings shows us that life existed here since prehistoric times.The remains of the ancient Via Militaris road that linked Europe and Asia back then, today it is the International Road Corridor 10. 
Stara Planina  (Balkan Mountain) surrounds thy city, and many parts of it are ecologically preserved, and represent a place where rare and valuable sorts of plants and animals live. There are extraordinary conditions for agriculture, especially for sheep raising, which has always been a tradition here, along with the production of dairy and meat products, such as Stara Planina caciocavallo cheese, Cheese of Borovo, and Stara Planina lamb. 

Adventure trekking routes close to here are Greben (Ridge) Mountain 1337 m, and Vlaska Mountain 1442 m, where the river Jerma creates one of the most beautiful canyons in Serbia, whose cliffs rise over 400 m and offer a unique panorama. Near Jerma, a kilometer long Vetrena Dupka Cave (Windy Hole) named after the strong air circulation at the entrance, not arranged with tourist paths, but the cave offers a real speleological experience for adventurers, only with a licensed guide. 
Smilovska Lakes (Savat I and Savat II) just 12 km away from Dimitrovgrad made due to land reclamation of the karst field to cause drainage in the spring, and irrigation in the summer and autumn. The lakes are ideal for fish growing, and sport fishing, therefore a favorite destination for many fishermen. The lakes are rich in carp, pike, catfish, rudd, roach, carp bream, crucian carp, and American catfish. The annual capacity is production and fishing of 30-50 tones of fish. Only fishermen with annual or daily licenses are allowed to fish in the lakes, because of the control of fishing.

St. John the Theologian Monastery in Poganovo Village situated in beautiful Jerma Gorge has been a place of interest not only among believers but also admirers of cultural and historical monuments. Built at the end of the 14th century at the unreachable position, the monastery until 1927, escaped damaging by the various conquerors throughout the centuries. St. John the Theologian Monastery in Poganovo Village situated in beautiful Jerma Gorge has been a place of interest not only among believers but also admirers of cultural and historical monuments. Built at the end of the 14th century at the unreachable position, the monastery until 1927, escaped damaging by the various conquerors throughout the centuries. Reconstruction and restoration of the monastery are completed 30 years ago. Poganovo Monastery has been under the protection of Serbia since 1949, and on the list of UNESCO as a cultural property of high priority since 1979. 

Bela Palanka or Remesiana 
Located on an important Pan-European Corridor X, Bela Palanka connects Central Europe and Asia Minor, since Roman times. Built on the foundations of an ancient Roman city Remesiana, it is one of the oldest places in the Balkans. According to some sources, the Celts founded it in 280 BC, and to the other, by Tribals in 292 AD. Therefore, Bela Palanka is considered old around 2300 years. Throughout history, Remesiana was under the rules of Romans, medieval Serbian, and Turkish Empires.
St. Nicetas of  Remesiana (ca. 333 - 414 AD), bishop, theologian, and composer of the major Latin Christian hymn of praise - Te Deum, was bishop of Remesiana or present Bela Palanka. His missionary, took place in the period ca. 330 - 420 AD when it is supposed that he has lived. His work is well known for the activities of a Christian missionary of present Serbia. 
Important archaeological sites have always been the fortress, a square building surrounded by stone walls, and towers demolished and reconstructed several times throughout history.  
In the center of Bela Palanka is placed a well-preserved milestone or odometer dating from the beginning of the third century. The milestone is tall 2.4 m and placed at the intersection of the road Via Militaris, where passengers were replacing tired horses. The milestone shows a distance from Nis 22 miles or 35 km, which is correct with the present distance from Nis.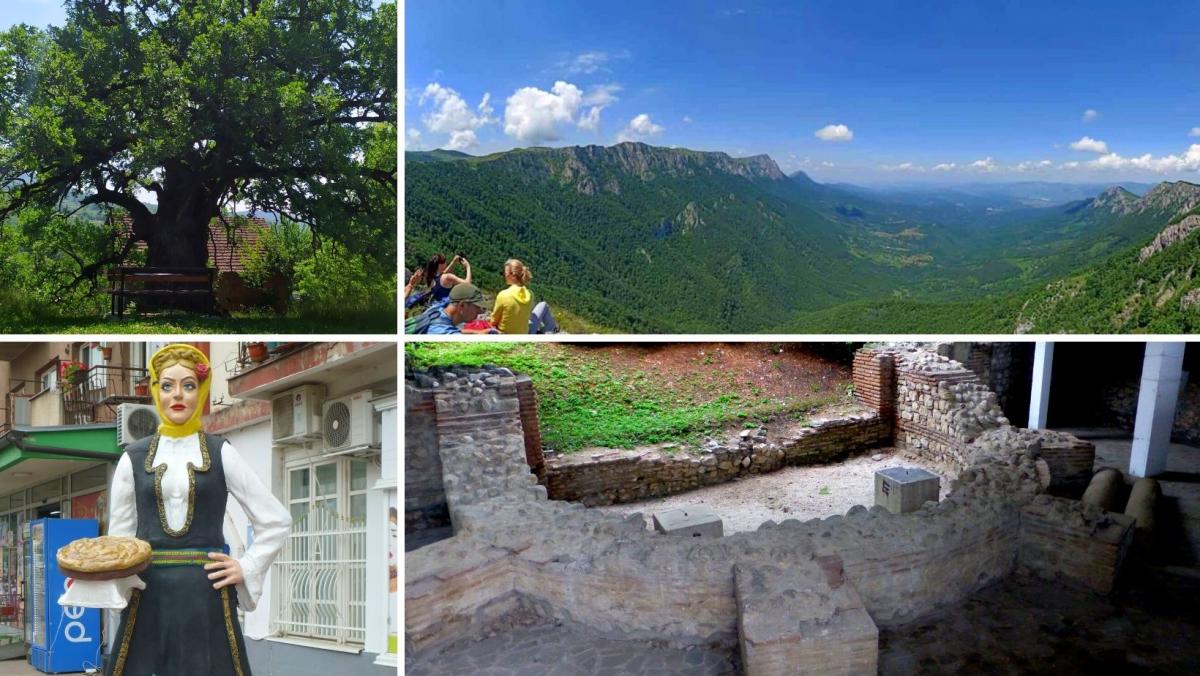 The rich cultural, and historical heritage, natural beauties, traditional events, and the hospitality of local people, are enough reasons to visit this small town.
What makes Bela Palanka famous when it comes to gastro-hedonism is Banica, a pie made of filo (phyllo) dough sheets. This delicacy, which is a brand of Bela Palanka, could be purchased at almost every bakery, but also promoted every year at the Manifestation Dani Banice, which held second weekend in August. Manifestation Vurdijada (pronounced Vourdiyada) is famous as well and is the promotion of a milky spread called Vurda, which is obtained by straining sour milk or curd.
Fans of sky running, who are above average fitness condition, and excellent orienteering, have the opportunity to join the event Suva Trail Marathon in August and experience the power and beauty of the Suva Mountain ridge trail. Don't miss to visit manifestation Days of Banica, and hike to Suva Mountain the peaks Smrdan, Pasarelo, Preslap, and Divna Gorica.
Mostly visited attraction is an oak tree over 1000 years old, located in Divljana (a well-known children's resort for school in nature). There is a  belief that the subjects of Emperor Samuel of Bulgaria planted this oak tree.
The strong and aromatic scents that spread through the fields of the Village Tamnjanica are coming from purple flowers planted on over two hundrends hectares representing the largest lavender plantation in Serbia and one of the largest in Europe. Besides lavender fields, other medicinal herbs of immortelle, rose, lemon balm, chamomile, then blueberry and vines, are also planted here. Thanks to the idea of Ljiljana Petrovic to make Serbian Provence in her homeland and bring other subcontractors who will grow lavender and other herbs on its plantations and in Ljiljana's distillery produce oil, this village become famous in Serbia and Europe. In addition to the many painters and sculptors who create in the inspiring ambiance of lavender fields on "Tamnjanica Eko Plantations" owned by Mr. Gorazd Cuk from Slovenia, an art colony "Pigmalion Art" become very famous belong artists from Europe. Pygmalion distillery produces Serbian brandy "Rakia" and other products, such as unusual and tasty lavender and sage juice, healthy jams, soaps, and other natural products. 
The garden yard of Pigmalion is unique for destination weddings, events, and outdoor conference, and meetings. BLeisure DMC would be happy to organize an inspiring personal or business event. Contact us here.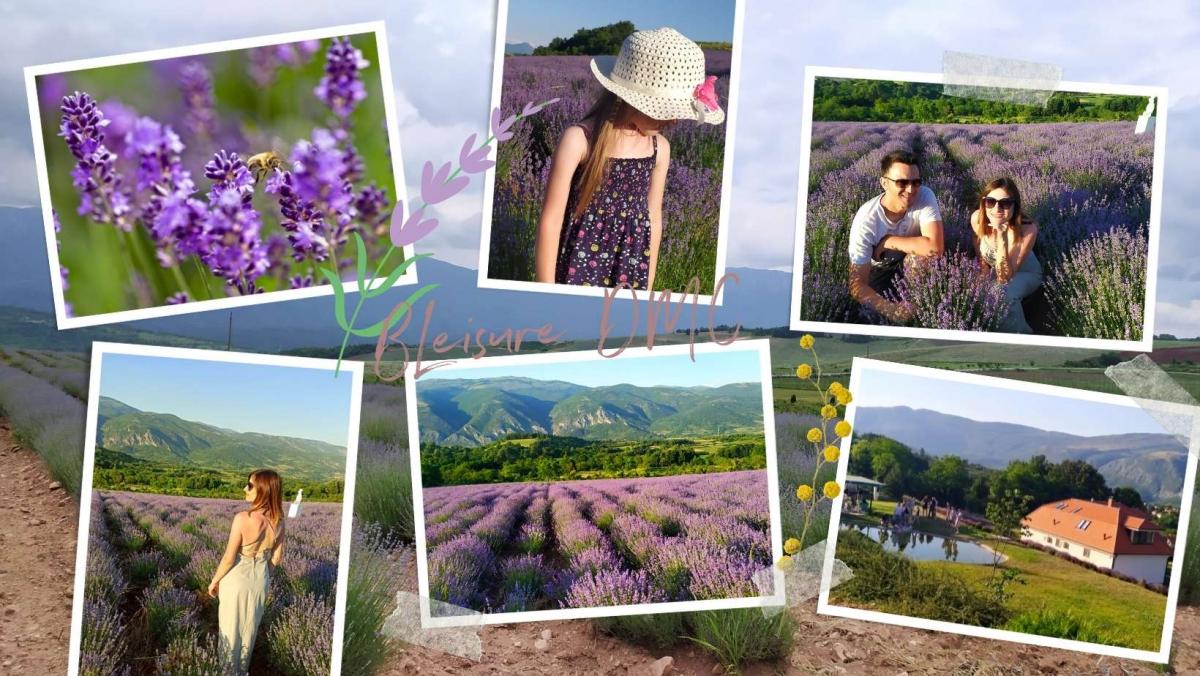 Babusnica and Zvonacka Banja Spa
Babusnica is a small town placed in the valley of the Luznica River, surrounded by the mountains, and with many natural beauties represents real oases of tranquillity. Due to its natural conditions, the area of Lužnica has been inhabited continuously, from prehistoric times to the present. As evidenced by numerous remains of human material culture such as remains of Roman forts and roads, the Roman aqueduct discovered in front of the Oreovica Village, the Roman ruins found in the Mokra Village, as well as clay vessels and coins.
Cafes and restaurants in Babusnica, as in every town, are places that reflect everyday life. Here you could try the traditional cuisine specialties. For gastro-hedonists, the Manifestation Vurdijada (pronounced Vourdiyada) is famous in this region for the promotion of a milky spread called Vurda, which is obtained by straining sour milk or curd. It is held every year in November.  Never the less, you should try steamed mutton, sarma, and stuffed peppers, pies, domestic brandy - Rakija, and wine of black currants.

Ten hiking trails are marked here, Lužnica Trail leading to the pick Vetren, The trail Five Peaks of Stolska Mountain, then trails to the picks Asenovo kale, Crni Vrh, Golemi Stol, Golemi vrh, and other.
Every June, the Mountaineering Federation of Serbia organizes the simultaneous outing from Serbia and Bulgaria to the pick of Ruj Mountain (1706 m).
As a reminds of tradition and customs of the ancestors, riding horses without a saddle is organized an Event Todorica every March in the village of Gornji Strizevac.
Zvonacka Banja Spa
Zvonacka Spa, named after the nearby village of Zvonce (The Bell) situated in the picturesque Jerma Gorge near Pirot, Babusnica, and Dimitrovgrad, represent the balneological and climatic resort with a beneficial effect on the human body.
Thermal spa water (28°C)  clear, odorless, and colorless, belongs to the group of oligomineral, slightly sulfide water, and is used for therapeutic purposes by bathing and drinking. A high concentration of negative ions in the air makes the spa treatments more effective.
In addition to therapy, another useful pastime is possible here, collecting medicinal herbs for teas, as there are rare plant species in the forest clearings, not only in Serbia but also in Europe.
For more inspiration about this region watch Babusnica Promo Film