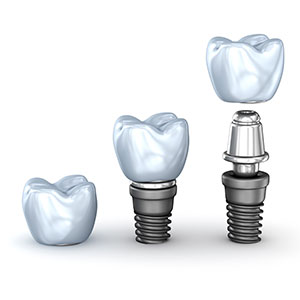 Dental implants are artificial tooth roots that are used to replace the root of a natural tooth. Implants can help improve one's facial appearance, speech and eating. Implants are comfortable, long-lasting and have many advantages:
     Enhance facial appearance
     Improve speech
     Make eating easier
     Boost self-esteem
     Improve oral health
     Feel comfortable
     Long-lasting 
Requirements to an implant:
The jawbone must be at least more than 1-1.5cm in height and thickness to support an implant. Also, bone must have adequate density.
Oral hygiene
Meticulous oral hygiene is absolutely crucial. You must brush the teeth regularly. Since implants penetrate the gum, inflammation tends to occur in the part that contacts the gum. Moreover, since it is connected with the bone, inflammation could easily spread to the bone. Once inflammation occurs around an implant, the life of an implant becomes short.
Consultation
It is important to have a consultation to determine about your dental condition prior to the implant procedure. Examining your bite and jawbone, will determine how many, and how large, the replacement teeth need to be.
Find out about a doctor
An implant involves a surgical procedure. A general dentist extracts teeth on a regular basis, but the implant procedure is more complicated than simple tooth extraction. It is better to consult an implant specialist or an oral surgeon.
The Implant Process
The implant would be surgically placed in your jawbone while you are under general or local anesthesia. Then, oral surgeon would make an incision which would reveal the bone and stitched back. A healing period while titanium implant merges with your jawbone is approximately 3-6 months. Then a crown will be placed over the implant.Unlike dentures, implants are not removable and thus more comfortable because the patient can use them as well as the original tooth. Bridges must be attached to teeth on either side of the space left by the missing tooth. However, implants do not need any adjacent teeth to hold new replacement teeth in place.
Providing One-Stop Convenience
Your dentist can perform the entire dental implant service: from initial consultation to placing the implant to restoring the subsequent crown all in-house making it convenient and affordable.
Scheduling an appointment has never been easier.  Reservations can be easily made via BLeisure DMC, using the Contact Button below.  
Our full-service destination management company will provide the best offer and attentive care that is tailored to each traveler. We would plan your whole trip in an original way whether, your travel to Nis or South & East Serbia is for business, leisure or medical purpose. 
For more schedule availability, simply submit your inquiry with the contact button below, and one of our team members will contact you to schedule your consultation.
Undefined