Porcelain Veeners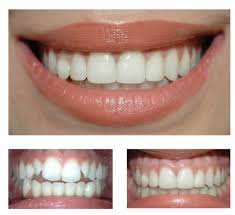 In case your teeth are not beautiful as you desire, have certain discoloration, irregular position or some distance between the teeth then, the Porcelain Veneers are the right choice for you. It's able to adhere directely to a tooth surface with minimal grinding of the teeth. It's only 2 to 3 mm thick layer and represent a high-tech and most natural option of the teeth restoration.
Composite Veneers
Dental composite, the material used with tooth-bonding technique, is unique in two ways:
•    It mimics the color and appearance of tooth enamel well.
•    It's able to adhere directly to a teeth surface, even a smooth flat one.
The fact that dental composite adheres well to even smooth tooth surfaces makes it ideal for correcting most any type of small imperfections, such as isolated areas of staining, surface pitting, small chips or minor shape deformities.
The smaller the problem area, the more likely, the only reasonable solution is dental bonding.
When you are trying to decide between these alternatives read more ubout our blog Composite vs. Porcelain Veneers or Crowns
If you'd like to achieve a stunning, photo-ready smile with veneers, GET STARTED TODAY!
Scheduling an appointment has never been easier.  Reservations can be easily made via BLeisure DMC, using the Contact Button below.  
Our full-service destination management company will provide the best offer and attentive care that is tailored to each traveler. We would plan your whole trip in an original way whether, your travel to Nis or South & East Serbia is for business, leisure or medical purpose. 
For more schedule availability, simply submit your inquiry with the contact button below, and one of our team members will contact you to schedule your consultation.
Undefined